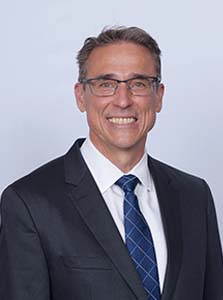 Doctor Jonathan Olson D.C.
Dr. Jonathan Olson is a 1989 graduate of Northwestern College of Chiropractic, Bloomington, MN. Dr. Olson has been the Owner and Clinic Director of Nokomis Chiropractic since 1991.
Dr. Olson developed the unique blend of chiropractic, rehab and home exercises that we use at Nokomis while looking for a solution to injuries he had from playing college soccer. The old injuries were preventing him from running marathons.
Since developing the Nokomis treatment protocols, Dr. Olson has completed several marathons, dozens of triathlons and even an Ironman at age 51.
Dr. Olson spends his free time with his family, friends, 3 children and grandson, along with continuing to pursue actives including sailing, snowmobiling, skiing, biking, running, triathlons and hunting and fishing when time allows.
Why I became a Chiropractor: Ever since I was young, I knew I wanted to be a doctor because I was so fascinated by how the body works. It wasn't until my 2nd year of Pre-Med at Hamline that I was exposed to chiropractic.
Once I understood the science and research behind the principles of chiropractic, I knew that becoming a chiropractor was the best way for me to work with the body and help others.
The reason that I still love being a chiropractor after 32 years, is that every day our patients share with us how much they appreciate getting out of pain and being able to be active again due to the unique treatment approach that we use.
The bottom line is that everyday we get to help others and fulfill our purpose statement. "Helping You Express life to The Fullest".
My Health Philosophy: The body was designed to feel good, be healthy and active for 100 years. Being healthy takes work and has to be a priority.
I recommend (and personally follow) a Healthy lifestyle that includes: regular chiropractic adjustments, daily stretching and exercise, loving relationships, natural healthy food, daily supplements, proper hydration (H2O), good sleep, and daily mental/emotional/faith practices.
---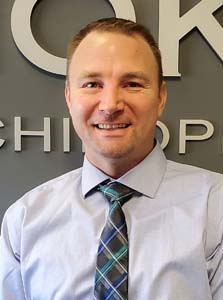 Doctor Ben Kuhlmann D.C.
Why I became a Chiropractor: My chiropractic story started in the unlikeliest of places, in Iraq, tackling back pain while wearing plated body armor & carrying a heavy rucksack all day on deployment. Upon returning, I devoted my civilian life to helping people suffering with the same problems. After double majoring at Moorhead State with Cum Laude honors in Biochemistry and Biology, I immediately went into Chiropractic. Today I'm proud to be helping thousands of people suffering with low back pain, headaches, and mid back pain. Sadly, I've come to realize that todays ergonomically challenged 9 to 5 day is just as damaging to the spine as a deployment to Iraq… only with less medals.
When home I'm always on the lookout for new adventures with my family and friends. Bouldering with my son is a major highlight for any day of the week.
My Health Philosophy: I wish it was as simple as "an apple a day", but of course it's not. The older I get the more I feel like I'm investing in my retirement health plan by staying physically active and diligently monitoring my body's function. I Invest in my health weekly because I'm young and can move and haven't had many injuries
Therefore, I will benefit as I age with overall better physical and mental health. I relentlessly strive for better health not only for myself and my family but in all my patients by helping them realize the amazing outcomes daily activity, chiropractic, and the right stretches can have on their life.
Monday
8:00am - 11:30am
2:30pm - 6:00pm
---
Tuesday
2:30pm - 5:00pm
---
Wednesday
8:00am - 11:30am
2:30pm - 6:00pm
---
Thursday
2:30pm - 6:00pm
---
Friday
8:00am - 11:30am
---
Saturday & Sunday
Closed