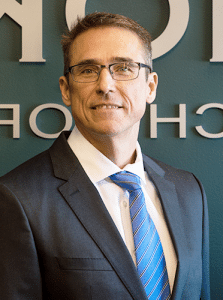 Doctor Jonathan Olson D.C.
Dr. Jonathan Olson is a 1989 graduate of Northwestern College of Chiropractic, Bloomington, MN and lives in the Highland Park neighborhood of St. Paul with his wife and 3 children.
Why I became a Chiropractor: Ever since the age of 5, I have been amazed by the human body. Even then, I knew I was going to be a doctor when I grew up. It wasn't until my 2nd year of Pre-Med at Hamline that I was exposed to chiropractic. Once I understood the science and research behind the principles of chiropractic, I knew becoming a chiropractor was how I would be best able to help others find relief and a higher quality of life.
The reason that I am still a chiropractor today, after 27 years, is the thousands of patients' I have seen find relief, a better quality of life and most importantly HOPE. Nothing besides my family and faith could ever give me such a feeling of purpose and fulfillment. Not even completing my first Iron Man last year...but it was close.
My Health Philosophy: The body was designed to feel good and be healthy. If the skeletal system (muscles, joints and spine), the nervous system (brain and nerves) and the nutrition systems of the body become and stay healthy, most of the aches pains and health problems that people have will improve naturally.
---
Doctor Matthew Amundgaard D.C.
Hi, I am Dr. Matt. I have been a chiropractor since 2006. I graduated from Northwestern Chiropractic College right here in Bloomington.
Why I became a Chiropractor: I got started with chiropractic at the age of 5 when I was getting chronic headaches and nothing was helping. I literally tried everything. You name it I tried it. Finally was taken to a chiropractor, and found tremendous relief! I also saw what it did for my sisters in their sports as well as the positive effect it has on my mother's health. I was truly hooked on chiropractic! Since then I enjoy seeing others find great relief and get their lives back through our unique approach here at Nokomis Chiropractic. What we do is so special you will be hard-pressed to find it anywhere else around town.
I love South Minneapolis! I not only work in South Minnie I also live here. I spend time with family and friends around the awesome lakes we have, or on the bike and running trails, and don't be surprised if you see me enjoying a meal at one of the many great restaurants or at a Baseball game.
My Health Philosophy: I am still a chiropractor for the joy and excitement of seeing improvement in patients who couldn't find help elsewhere. Watching patients regain their ability to perform activities that they love but had become unable to enjoy prior to finding chiropractic, is something special. I look forward to many more years filled with teaching people how they can become healthy and stay healthy which will allow them to enjoy life throughout their years.
---
Monday
8:00am - 11:30am
2:30pm - 6:00pm
---
Tuesday
2:30pm - 5:00pm
---
Wednesday
8:00am - 11:30am
2:30pm - 6:00pm
---
Thursday
2:30pm - 6:00pm
---
Friday
8:00am - 11:30am
---
Saturday & Sunday
Closed